Toddler Receives Lifesaving Neurosurgery at Holtz Children's Hospital After Troubling Diagnosis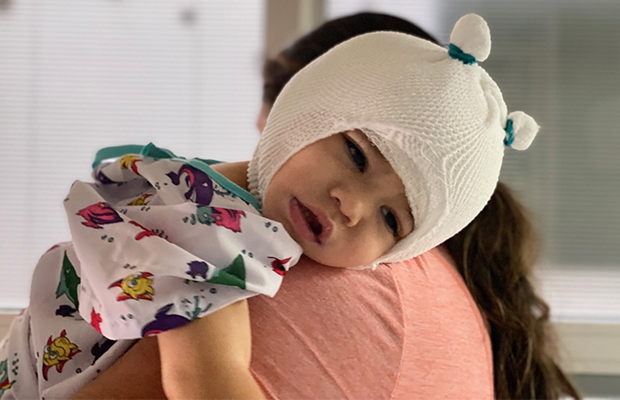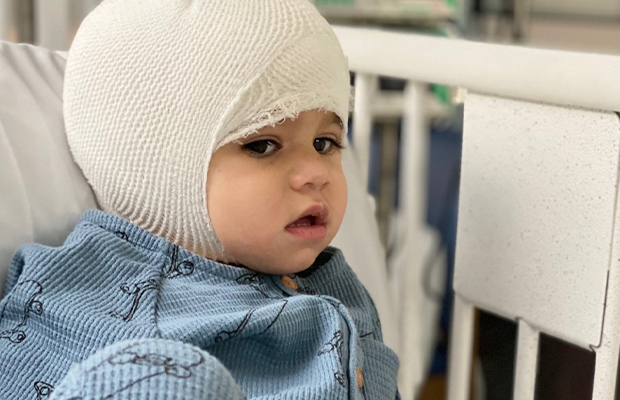 By: Miranda Torres
Benjamin Gutierrez was an infant when his parents, Juan Gutierrez and Maria Torres, began to notice his strange behavior. It started with occasional sleeping spells and his face turning red while he ate. Benjamin would also bump into things frequently. He seemed disconnected, all indicators that something was wrong.
On June 5, 2021, Benjamin's parents took him to his pediatrician. While they were waiting to see the doctor, he had another episode. Gutierrez and Torres quickly began to record a video of what was taking place.  When they showed the video to the pediatrician, they recommended taking Benjamin to a neurologist immediately.
"We knew something was going on because his behavior was very strange," Torres said. "He's our only child, so we were extremely worried."
Instead of waiting for a neurologist appointment, the family rushed Benjamin to a local emergency department where he was initially diagnosed with a seizure disorder. After an electroencephalogram, which tests brain activity, it was determined that Benjamin was suffering from consistent seizures and should be placed on medication. He was admitted to the hospital, and remained under observation for about a week.
While hospitalized, Benjamin received an MRI, which revealed a large mass in the back of his brain. The family was told by the hospital's neurosurgeon that it was likely not a tumor, but a vascular malformation. Benjamin's parents sought out a second opinion; the neurosurgeon ordered further testing to determine whether the malformation was caused by genetics, which concluded that wasn't the case.
"We were told this was something we were going to have to deal with for the rest of his life so our family and friends encouraged us to find a doctor who was compassionate, understanding, and loved kids," Torres said.
Frantic to determine a solution for their son, the family contacted Heather McCrea, MD, PhD, director of pediatric neurosurgery at Holtz Children's Hospital, and a UHealth – University of Miami Health System pediatric neurosurgeon. The next day, Dr. McCrea saw Benjamin at Holtz Children's.
"There have been times that it's been really complicated to find a neurosurgeon for Benjamin," Gutierrez said. "Dr. McCrea and her team went above and beyond to solve the problem in a timely manner."
After reviewing his scans, Dr. McCrea explained to Benjamin and his parents that he had a very large cavernous malformation, which is an abnormally formed blood vessel that can create problems in the brain or spinal cord. They discussed two options – wait until Benjamin was older to operate or move forward with the surgery immediately. She also explained that the lesion was in the area that controls vision, which explained why Benjamin occasionally bumped into things. Due to a spike in COVID-19 cases, the family decided to wait a few months and see the results of Benjamin's next MRI.
On November 12, 2021, the next MRI showed the malformation had grown, which pushed the family to move forward with the surgery immediately.
"I felt like we were in a nightmare. We were prepared for the surgery and came to every MRI and appointment ready with a packed bag, but I was not prepared for this," Torres said.
Benjamin was admitted to the hospital from the outpatient MRI and prepped for his procedure, with the operation taking place three days later.
"The surgery went very smoothly," Dr. McCrea said. "I was able to operate around the lesion, ensuring I was not cutting into it, and reducing our risk for blood loss."
Despite being so young, Benjamin recuperated quickly, eating hours after his surgery and being discharged a few days later.
"While in the ICU, we were on autopilot mode, just taking it day by day," Torres said. "Everyone was very nice and luckily, everything went through perfectly. Dr. McCrea was constantly checking up on us and calming our nerves."
Benjamin is now healing and developing like a normal child his age.
"His speech and his motor skills are on track," Dr. McCrea said. "I don't think anyone who meets him would know he went through such a big surgery since he is developing so well."
Because of his age, it is difficult to assess Benjamin's vision, but he appeared to respond better after surgery. For now, he will be evaluated by an ophthalmologist every six months and will receive preemptive occupational therapy to maximize his progress.
Benjamin will require routine MRI scans periodically with Dr. McCrea for the next few years and is on medication for his seizure disorder. His parents are hopeful about his future and grateful for the care Dr. McCrea and her team provided.
"There are not enough words to say thank you," Gutierrez said. "Everything they have done for Benjamin has been beyond. A thank you does not cut it. We feel so lucky we had Dr. McCrea and her team because she helped save our little boy."