Twin Boys Receive Treatment and Education at Jackson Pediatric Center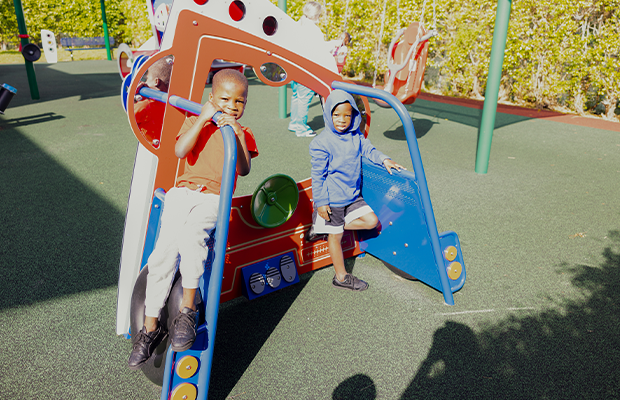 By: Miranda Torres
Twins Percy and Princeton Mells, 6, were diagnosed with sickle cell disease during their newborn screening. Since that diagnosis, Jackson Health System has played a pivotal role in their growth and development.
At just 11 months old, Percy and Princeton were enrolled in the Jackson Pediatric Center, a division of Holtz Children's Hospital at the University of Miami/Jackson Memorial Medical Center. The center provides intensive early intervention to children with special medical needs in order to help them re-integrate into the community and school system.
Over the past six years, the brothers have received occupational, physical, and speech therapy.  Between the ages of 3 and 5, Percy and Princeton participated in early education to help introduce them to a traditional school setting.
Due to sickle cell disease, the twins experience chronic acute pain and require medical intervention and specialized care that is not readily available at most schools.
"I've watched Percy and Princeton learn not only the fundamentals needed to prepare them for school, but the biggest education we taught them was how to identify and verbalize their pain," said Teresita Hidalgo, the center's associate nurse manager. "We taught them how to identify their pain before it reaches a severe level."
When Percy and Princeton begin experiencing a flare up in symptoms, the staff is able to intervene and determine whether they need a higher level of care by taking them to the pediatric emergency room at Holtz Children's which is just steps away from Jackson's Pediatric Center.
"Percy and Princeton's lives look different because they are constantly going to the hospital or doctor appointments," said Ebony Stevens, the twins' mom. "They have to be more cautious with the weather changes or sudden changes in temperature. The biggest difference is how quickly they become exhausted due to their pain."
As of now, the only FDA-approved treatment for sickle cell disease is a bone marrow or stem cell transplant, which is what Stevens wants for her boys.
"My hope is that they can live a typical and healthy life," she said.
The goal is for Percy and Princeton to undergo a bone marrow transplant by this summer. If the boys do not receive the transplant by then, they may have to undergo transfusions every three weeks for a year.
As they wait for their transplants, Percy and Princeton successfully began kindergarten at a Miami-Dade County public school; they're both flourishing.
"The Jackson Pediatric Center has provided my boys with the ability to live a normal life. The staff here has shown them that despite their condition, their future is bright," Stevens said.
"The center is the support system I needed when I felt my world was falling apart. I am forever indebted to the staff for the love and support that they have given my husband and me. No longer do we think of you as our medical teams, but adopted aunts, uncles, and friends. We will forever be indebted to you."