Young Boy Undergoes Life-saving Neurosurgery at Holtz Children's Hospital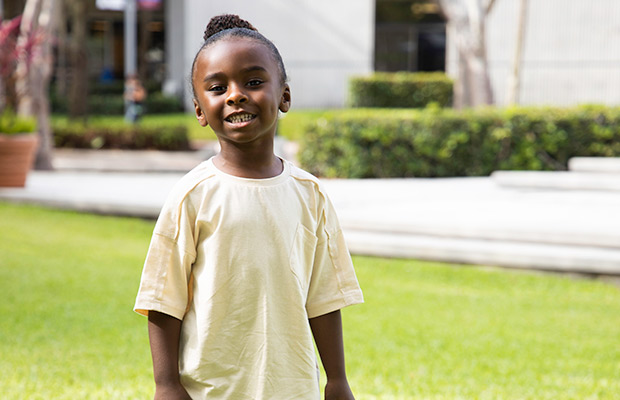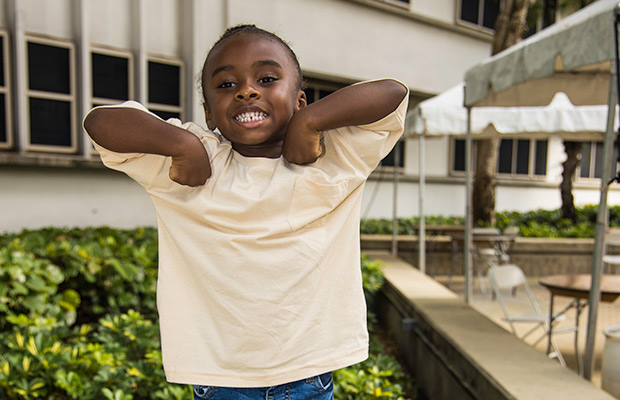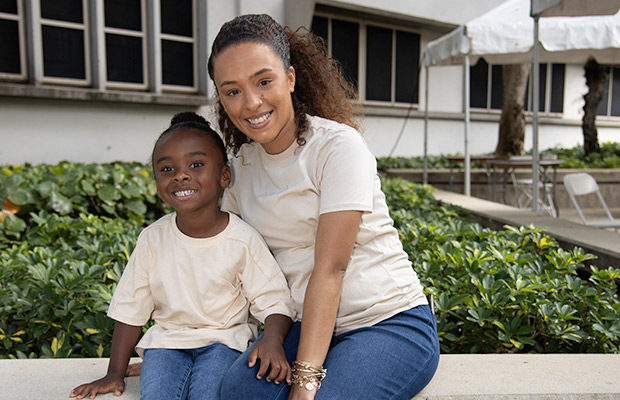 When Christina Belboda looks at her son, Zayne Obileye, she's thankful to have him in her life after he nearly died almost four years ago.
In October 2018, when Belboda picked up her then 13-month-old son from her local daycare in Bermuda, she knew something was wrong with him the moment his caretaker handed him over to her. Zayne was tired, wasn't speaking, and didn't open his eyes when Belboda called his name.
"I was panicking holding him in my arms," Belboda said. "I was told he hardly slept throughout the day and had thrown up a few times."
After she put her son in his car seat, Belboda, who's a registered nurse, began assessing his condition. She took his temperature, shined a light in his eyes, and tried waking him up again by calling his name and kissing him. She lightly squeezed on his limbs to check if he had broken any bones, but he remained unresponsive.
By this point, Belboda was extremely concerned for her son's health. She drove to the nearest hospital. When they arrived, Zayne briefly opened his eyes to throw up again.
The doctors performed a CT scan that detected a large epidural hematoma on the right side of Zayne's brain. Epidural hematomas occur when blood accumulates between the skull and the dura mater, which is the thick membrane covering the brain. Zayne was immediately moved to the hospital's pediatric intensive care unit (PICU). Belboda was then informed that her son would have to be transferred to Holtz's Children's Hospital at University of Miami/Jackson Memorial Medical Center to receive specialized care.
"When I was told Zayne's prognosis, all I could do was cry. I couldn't understand why this was happening to my baby boy," she said. "His doctors in Bermuda were clear with me and told me that he had to be airlifted as soon as possible."
The bleeding from an epidural hematoma can progress rapidly. Patients can quickly go from talking to feeling critically ill.
The longer Zayne remained in Bermuda without surgery, the higher his chances were of having a seizure, suffering permanent brain damage, or dying.
On October 27, 2018, Zayne was brought to Ryder Trauma Center at Jackson Memorial, where Belboda met Heather McCrea, MD, PhD, the director of pediatric neurosurgery at Holtz Children's and a UHealth – University of Miami Health System pediatric neurosurgeon.
Upon his arrival, Zayne immediately underwent a craniotomy to remove the hematoma and alleviate the pressure on his brain.
"The bleed in Zayne's brain was life-threatening. If he were in our hospital, he would have been taken immediately to the operating room, but he was several hours away by plane," Dr. McCrea said. "My team and I had to make sure he would survive the flight, so I asked the general surgeon in Bermuda to stabilize him as best they could so he could be rushed to the operating room as soon as he arrived."
The surgery was a success. However, as Dr. McCrea suspected, the bleeding had put significant pressure on Zayne's brain. He remained in Holtz Children's PICU for about a week following his surgery. Belboda and her son stayed in Miami for a few additional weeks for follow-up care before flying back home.
"With him being as young as he was, it was difficult to determine how he would recover from the injury and if he suffered any setbacks," Dr. McCrea said.
After his surgery, Zayne's medical team had to confirm he was still able to walk and talk. Thankfully, he was.
Last May, Zayne and Belboda flew to Miami for a follow-up appointment and routine MRI at Holtz Children's.
"It was great to see Zayne after so many years and to see how wonderful he is doing," Dr. McCrea said. "I'm so happy to see how much he's progressed."
Today, Zayne's a healthy, energetic 4-year-old boy. He's on par with other kids his age and didn't suffer any developmental setbacks as a result of his injury.
"I don't want to think about what could've happened if it weren't for Zayne's medical teams," Belboda said. "I'm so thankful to Dr. McCrea and the team at Holtz Children's and Ryder Trauma for saving my son's life."