Young Man Thrives While Receiving Dialysis at Holtz Children's Hospital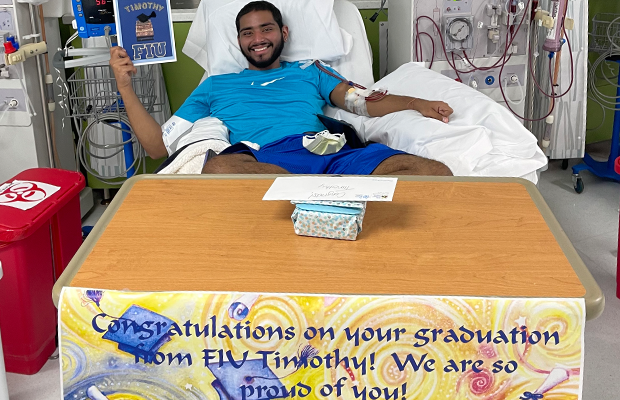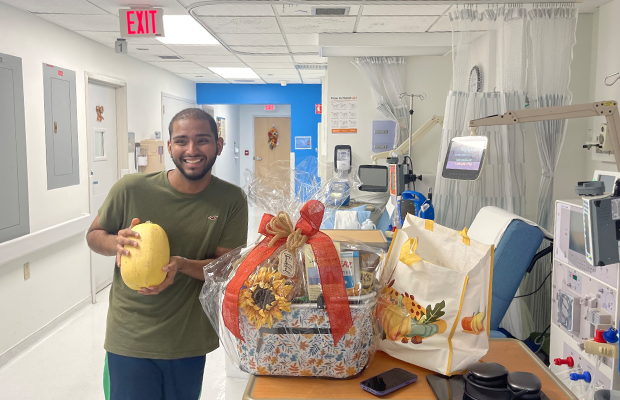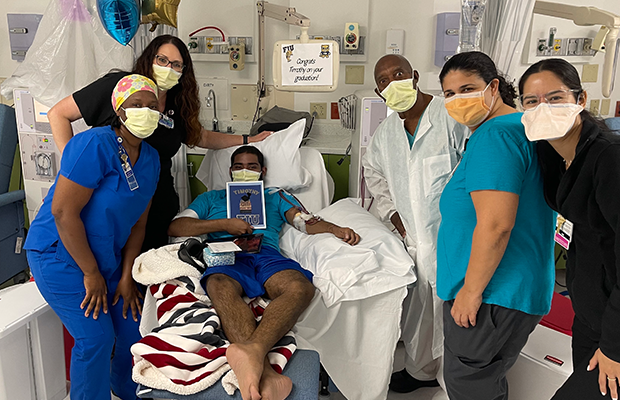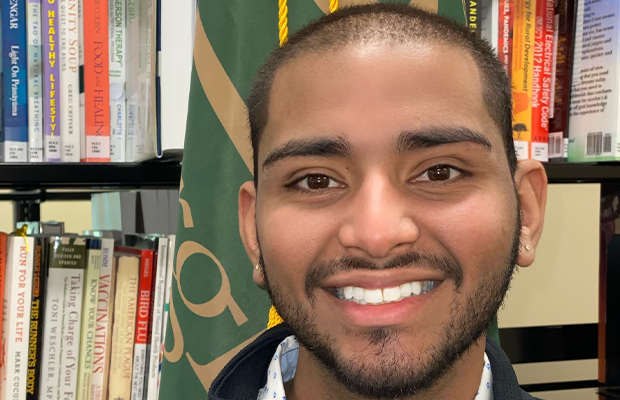 By: Krysten Brenlla
Timothy Torres, 22, has suffered from chronic kidney disease his entire life. He sustained damage to his kidneys while in his mother's womb, leading to him being born with posterior urethral valves – a blockage in his urinary tract. Torres' first kidney transplant took place when he was 6 years old.
"Being in and out of the hospital was always rough because when I was admitted, I would be admitted for long periods of time," Torres recalled. "It became normal for me."
Six years after the first transplant procedure, the kidney failed. In 2017, Torres was transferred to Holtz Children's Hospital at University of Miami/Jackson Memorial Medical Center, where he met his team of pediatric nephrologists. He needed a second kidney transplant, which went on to fail again just three years later.
"A kidney transplant affords a much better quality of life – I never say no to transplant if it's a viable option," said Jayanthi Chandar, MD, a pediatric nephrologist at Holtz Children's, and a nephrology transplant surgeon at the Miami Transplant Institute, an affiliation between Jackson Health System and UHealth – University of Miami Health System. "It's unfortunate that he lost the kidney transplants; my team tried very hard to help him, but Timothy had an underlying infection that we couldn't get rid of because there aren't that many treatment options available."
Because of the two failed transplants, Torres needed dialysis, a procedure to remove waste products and excess fluid from the blood when the kidneys stop working properly. He now receives dialysis treatments every week to help with his condition.
"When we talk about dialysis to our patients, we refer to it as a bridge – we don't think of it as the end of the road, because we know that transplant has the potential for patients to live a longer, healthier life," said Chryso Pefkaros Katsoufis, MD, medical director of pediatric dialysis at Holtz Children's. "Timothy serves as a remarkable example of a patient who is motivated to thrive and continue living while maintaining his dialysis schedule."
Torres never let the failed transplants or dialysis stop him from fulfilling his dreams.
While he received his  treatments, he studied full-time at Florida International University, and he recently graduated with his bachelor's degree in political science and criminal justice – all while working full time at CVS.
"Finishing school was a personal goal of mine," Torres continued. "I didn't want what I was going through to hold me back."
For now, he has a new job at Keiser University, where he hopes to continue growing professionally. Torres is also working on earning his master's degree in educational leadership from St. Thomas University.
"The team at Jackson has been essential to my growth, he said. "They always try their best to make you feel comfortable, and they try to make you feel happy at all times."
Torres is on the transplant list for a third kidney match.
"Many people think that, because you're donating the organs of a loved one, you're hurting them – but in reality, donating an organ can help someone else," Torres continued.
"I'm grateful to have met my Jackson caregivers – they're helping me continue to live my best life."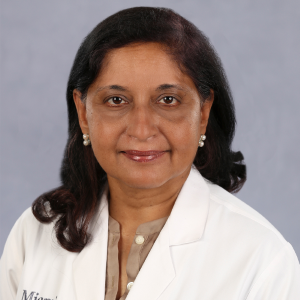 Jayanthi Chandar, MD
Chryso Katsoufis, MD